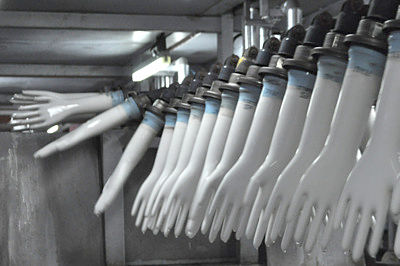 3 key things about Riverstone Holdings, a Singapore-listed glove manufacturer (market cap: S$897 million):

1. Profit upswing: Riverstone delivered 3Q2023 results that shout loudly the message that its post-pandemic downturn is over.


Stock price

60.5 c

52-wk range

51 – 69.5 c

PE (ttm)

15

Market cap

$897 m

Shares outstanding

1.48 b

Dividend
yield (ttm)

15%

1-yr return

1.7%

P/B

1.8

Source: Yahoo!

Inventory indigestion by its customers is over. Selling price downturn is over.

Raw materials cost less. Product mix is more favourable. Competition is less keen as

smaller producers exit the market.



Even forex for the Malaysia-based Riverstone is more positive as it sells its products in the strong USD while booking its financial performance in ringgit.

All in, Riversone achieved RM59.3 million (S$17.1 million) net profit in 3Q2023 -- which was +26% q-o-q (see chart below).

Revenue growth was flat at RM222.8 million.

Which means its net profit margin rose nicely -- to 26.6% from 20.9%.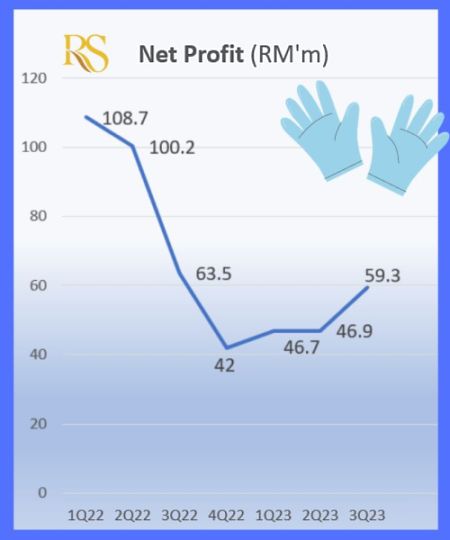 Upturn in profit
2) Generous dividend: Riverstone has declared a 5 sen dividend for 3Q2023.

Together with a 5 sen dividend paid for 2Q2023, the aggregate 10 sen/share dividend represents a payout ratio of 97%, continuing its track record of paying dividends generously.

(If only the ringgit wouldn't weaken!)

Riverstone generates highly positive operating cashflow.

As of end-3Q2023, Riverstone had RM951 million cash on its balance sheet.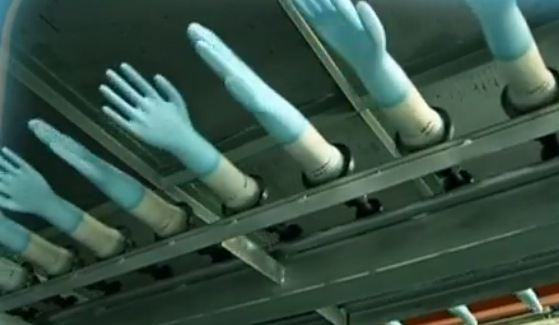 Riverstone generated net operating cash flow of RM198 million in 9M2023 -- which is significant even though it's 29% lower y-o-y.

3. Cleanroom gloves the key contributor: Post-pandemic, prices of healthcare gloves have fallen owing to lower demand as well as over-capacity in the industry.

Unlike its peers, Riverstone, aside from healthcare gloves, also produces gloves for use in cleanrooms of electronic manufacturers and pharmaceutical firms.


Cleanroom gloves, which fetch higher margins, are manufactured to meet exacting cleanroom standards for particle and static control in order to protect highly sensitive electronic components from contamination.

Cleanroom gloves accounted for 75% of gross profit in 3Q2023 while accounting for only 25% of volume of gloves sold.

Reportedly the No.1 producer in the world, Riverstone sells cleanroom gloves directly to customers unlike its healthcare gloves which go through distributors (with some loss of profit margin, of course).

Riverstone has been manufacturing cleanroom gloves for more than 30 years.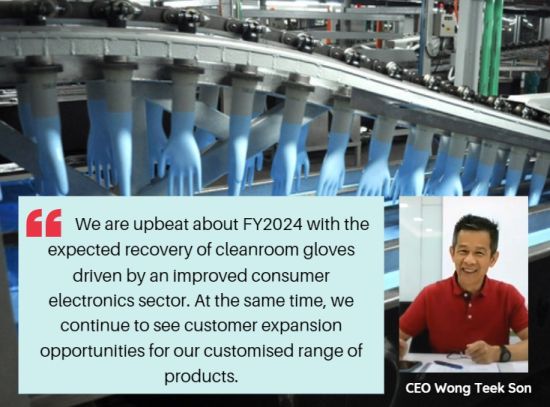 4Q23 will see stable demand for its cleanroom gloves following a tepid 3Q2023, while next year is expected to bring about a stronger recovery, according to management.


Management has previously signalled its intent to distribute excess cash as dividends after setting aside working capital and sums for capex to expand its production capacity estimated at RM100m per year for the next 3 years.

Stay tuned for continued dividends. CGS-CIMB forecasts 4 sen a share as final dividend -- which is kind of a low expectation -- bringing the total for 2023 to 14 sen/share. That's a yield of 6.6%.

That yield will add to the potential upside from the stock price. CGS-CIMB has a target price of 75 cents.


For more, see the Powerpoint deck here.