Excerpts from analyst's report

KGI Fraser analyst: Renfred Tay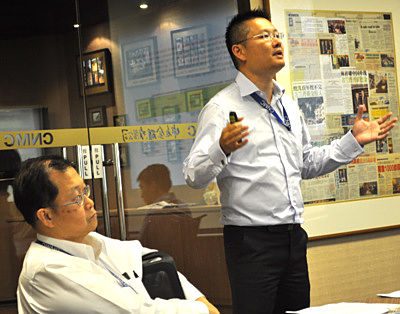 CEO Chris Lim (standing) with deputy chairman Peter Choo (seated) at an investor briefing. NextInsight file photo. Acquisition matches our ideal scenario. CNMC, on 28 June 2016, announced that it has signed a non‐binding letter of intent to acquire a 51% stake in Pulai Mining Sdn Bhd (through issuance of new shares) for a cash consideration of RM13.8m (~US$3.4m). The exclusive period for CNMC to do its due diligence will last for two months.

This potential acquisition matches well with our previously mentioned "ideal acquisition scenario" in that

1) the transaction will be done in MYR, implying no FX related leakage from CNMC's large MYR cash holdings,
2) it is a brownfield project with prior exploration data,
3) it is also located in the state of Kelantan just 1.5hrs drive from Sokor, implying higher chances of maximizing productivity.

♦ CNMC trading at only 7XFY16F PE
"Higher TP. CNMC is still trading at only 7x FY16F P/E, way below the junior gold miners' average of 24x. We keep our conservative valuation peg of 9.3x unchanged, but our TP rises to S$0.51, in line with the increase in our earnings forecast. While we recognize that there is still a risk of this project turning out to be a dud, we believe this strategic acquisition by CNMC should trigger a re‐rating in its share price.."

--

Renfred Tay (photo)
About Pulai Mining. Pulai Mining is located at about 105km southwest of Sokor, within Malaysia's central gold belt. It has a total of 11 licenses spanning about 3,841ha (38 sq. km vs. Sokor's 10 sq. km) to explore and mine for gold, iron ore and feldspar. From March 2011 to May 2013, it produced and sold over 260kg of gold, with value close to RM38m from alluvial mining and generated over RM500k in revenue from feldspar mining in FY2015.

There is currently no JORC report on the project, but CNMC intends to obtain one should the acquisition materializes. Previous exploration data has shown that there is gold in the area and that Pulai has similar mineralization features as Sokor.

Relatively small cash consideration for the acquisition. The cash consideration of ~US$3.4m for a 51% controlling stake looks paltry compared to CNMC's MRQ net cash balance of US$26m; in fact, it is around what CNMC's current Sokor operation could generate within a quarter. As such, management believes that this acquisition should not impact its dividend payout plans in the near future.


CNMC Goldmine

Share price:




38 c

Target:




51 c
While further investments into Pulai could be required down the road, we understand that CNMC intends to re‐start alluvial gold mining at Pulai to generate income for reinvestment into the project (much like what it did with Sokor when it first started out).

Raising gold price assumption but still keeping it conservative. The surge in gold prices post the U.K.'s EU referendum, has made our initial gold price assumption of US$1,170/ozt (FY16F‐18F) too conservative. This assumption is now revised to US$1,230/ozt, higher than before, but still lower than the prevailing gold price. Our FY16F‐18F earnings forecast, which remains Sokor centric, rises by ~6% as a result.