JP Morgan has the highest target price of $4.05 for AEM Holdings following its 3Q results release. The stock closed today at $3.26.




° AEM provides solutions for back-end testing of the semiconductor manufacturing process. Aside from key customer Intel, its new customers are also top-tier semiconductor players.
Profit before tax (before exceptionals, especially a US$20 million legal settlement) for 9M2023 amounted to S$42.6 million

(including exceptionals, pre-tax profit was S$10.1 million) compared to

S$141 million

in 9M2022.
JP Morgan said its target price is based on

10.5x P/E, which is the 5-year

mean P/E of the stock.

This is down from
11x previously, considering the following:


• Slower-than-expected
recovery and potentially mid-to-long term erosion of key
customers' test spend.


"We stay OW (overweight) as we should be near the end of the test equipment demand lull following the deep correction in the past one year, while mgmt has also guided for further program wins in the next 3-6 months, which may serve as a catalyst."
-- JP Morgan
Both factors are offset by ...



• AEM'

s increasingly successful
diversification efforts which reduce single customer risk
exposure.

It acquired four new customer acquisitions in the past couple of years but the ramp in their product launches has been further pushed out to late 2024.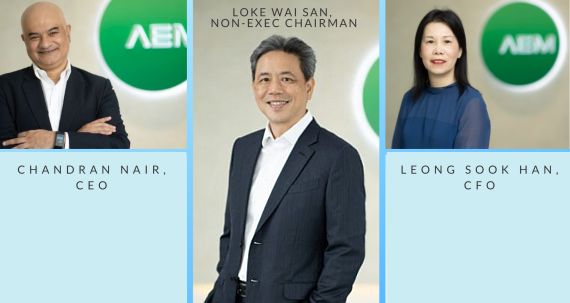 Here's our compilation of broker reports:
Research house

Call

Target
price
(S$)

Net profit forecast
(S$'m)

2023

2024

CGS-CIMB

Add

3.76

8.6

65.4

Maybank KE

Buy

3.76

10

74

JP Morgan

Overweight

4.05

13

83

UOB KH

Buy

3.63

14

76

DBS

Hold

3.00

13.6

73.8

Citi

Buy

3.78

Average

3.66

11.8

74.4


DBS Research has the lowest target price of $3.00 based on a higher P/E multiple of 12.5 compared to JP Morgan's 10.5.

DBS, which expects a lower 2024 profit than JP Morgan, has positives about AEM's fundamentals to highlight:


• Reiterating its long-term positive view on AEM, it noted AEM's
technological superiority in the systems-level test segment
and unique Test 2.0 approach.

AEM has also been awarded three
new patents in 3Q for its thermal capabilities, reinforcing its
competitive advantage.



•

The niche that AEM plays in has long-term secular drivers
such as artificial intelligence, Internet of
Things, and 5G.

See our post-3Q2023 report: AEM: 3Q was bad, FY23 will be bad. It's still a $1 billion company because ....