Excerpts from UOB KH report


Alpha Picks: Add SIE, ST, FEH, FEHT, FRKN; Remove SEA, KEP And CLAS
Poor investor sentiment in Oct 23 drove our Alpha Picks portfolio into negative territory; however, it nevertheless beat the STI by 0.1ppt on a market cap-weighted basis.

As a result, our portfolio has outperformed the STI 18 out of past 20 months.

For Nov 23, we add SIE, ST, FEH, FEHT AND FRKN, while removing SEA, KEP and CLAS.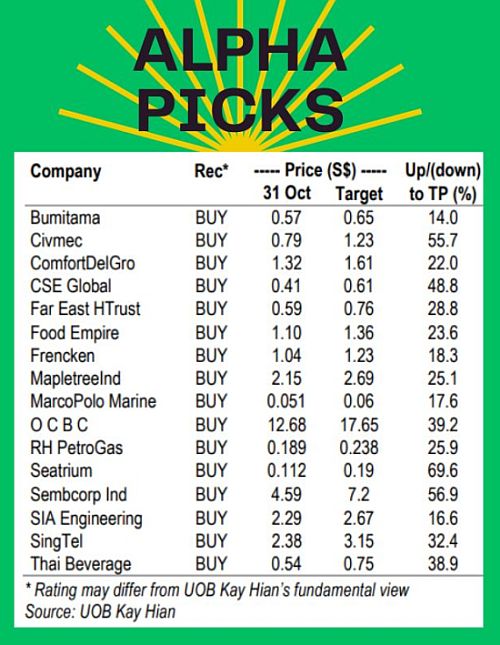 • Market review. The fragile global investor sentiment deteriorated in mid-Oct 23 as strong US economic and job data, coupled with sticky inflation, reaffirmed the likelihood for "higher-for-longer" interest rates, driving 10-year US Treasury yields to multi-year highs.

Also, a few high-profile disappointments from the US earnings season along with heightened geopolitical tensions in the Middle East further dented investor sentiment, resulting in the STI falling 4.7% mom in Oct 23.


• Changes to our portfolio for Nov 23 include the addition of
» SIA Engineering as we expect higher earnings and dividend recovery,
» Singapore Telecommunications for its defensive and improving business fundamentals amid market volatility,
» Frencken as its earnings bottomed out in 1H23 and it is expected to improve sequentially,
»Food Empire from expected improved valuation from its upcoming dual listing, and
» Far East Hospitality Trust as a pure play on Singapore's recovering tourist arrivals.

We remove SEA due to possible quarterly losses from its upcoming results, and Keppel and CapitaLand Ascott Trust due to their respective lack of near-term share price catalysts.


Food Empire – BUY (analyst: John Cheong)

• Potential dual listing on Hong Kong Stock Exchange to improve valuation.

Food Empire Holdings (FEH) recently announced that it is exploring a dual primary listing in Hong Kong.

This will provide FEH with more avenues to raise capital and exposure to a broader investor base.

If successful, we believe that it could mean better valuations for the stock.

Trading at 8x 2024F PE vs Singapore peers' average of 11x and regional peers' average of 14x, its valuation is due for a re-rating, in our view.


• Strong demand for consumer staple products.

Despite rising inflationary pressures and ASPs, FEH does not see major changes in consumption patterns. Given the consumer-staple nature of FEH's products, demand is relatively price inelastic.

FEH's products in the coffee segment, such as the MacCoffee brand, continue to be affordable with mass appeal, leading to stronger demand in 2023.


• Higher earnings from volume growth and pricing adjustments.

FEH's 1H23 net profit of US$26.6m (-1.6% yoy) is in line with expectations, forming 54% of our full-year estimate. 1H23 revenue from its core markets recorded impressive double-digit growth due to higher volumes and pricing.

Additionally, in light of the Russian ruble's rapid depreciation during the year (30% fall to-date), management has plans to implement price increases across its portfolio.

This will help reduce the impact of the weaker currency on FEH's performance moving forward.


• Frequent share buybacks to date reflects confidence.

From Apr 23, FEH has bought back 1.8m shares at up to S$1.11. This is close to the 52-week high share price of S$1.18, showing management's confidence in the future growth outlook.
Full report here.