ASMPT had a weak 3Q, possibly reflecting a bottom in the semiconductor cycle.

Net profit of HK$12.8 million was -97.9% YoY and -95.9% QoQ.

Listed in HK and headquartered in Singapore, ASMPT is a well-known developer of equipment used in various stages of semiconductor chip production and assembly.

Is it too early to call a trough/peak? How fast will earnings recover/decline? The usual questions.

At this point, analysts in some of the biggest investment banks can't agree on ASMPT's 2024 outlook.

Their widely-differing target prices makes you wonder if they are talking about different stocks.

You see target prices as low as HK$68 and as high as HK$108.

The stock recently traded at around HK$66 for a market cap of HK$27 billion.

Instead of target prices, which may be derived from analysts' somewhat subjective application of metrics, consider their profit forecasts.

While forecast profit numbers vary widely as well, there's a y-o-y doubling of average forecast profit coming in 2024.
See the table below:
Research house

Call

Target
price
(HK$)

Profit forecast
(HK$'m)

2023

2024

Macquarie

Neutral

62.66

662

951

DBS

Hold

71

1210

1976

Haitong

Neutral

68

832

1406

Nomura

Buy

90

804

1118

Mizuho Securities

Neutral

74

797

1561

CCB International

Neutral

74

717

1352

HSBC

Hold

72

863

1853

JP Morgan

Overweight

82

847

1797

Morgan Stanley

Overweight

88

833

1630

BNP Paribas

Buy

90

925

1307

BofA Global

Buy

100

786

2383

UBS

Buy

108

840

2123

Average

82

843

1621

Compiled by NextInsight

Let's see what analyst reports at both extremes of price targets say:


• UBS, the most optimistic of brokers covering ASMPT, titled its report positively "Semi solutions demand stabilising with upside from advanced packaging."
"Group bookings fell 2% QoQ to US$379m, better than guidance of a 10% QoQ decline, and actually rose 6% QoQ after stripping out the impact of a tool order cancellation by a high-density substrate maker."


-- UBS
It maintained its "Buy" call but trimmed its price target from HK$112.00 to HK$108.00.

The new price target is based on an unchanged 21x 2024E PE, near its mid-cycle average.

"We reiterate Buy on expectations of a cyclical recovery for the SEMI business, expanding TCB (Thermo Compression Bonding) and HB (Hybrid Bonding) opportunities for AP (Advanced Packaging)."

Also looking up for ASMPT, says UBS, is structural growth for auto SMT (Surface Mount Technology) driven by electric vehicles and advanced driver assistance systems (ADAS).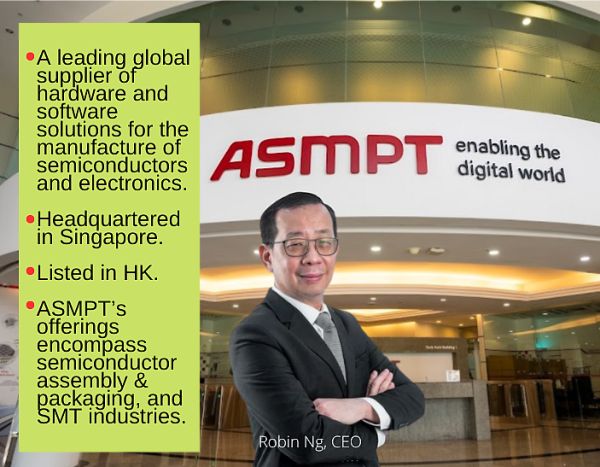 • Macquarie, most pessimistic about ASMPT, headlined its report: "Very weak result; weak outlook".

It said ASMPT's 3Q23 was a "large miss" and was anything but impressed with the 4Q revenue guidance ("weak").

Thus, it lowered 2023E revenue by -2% and net income by -37%.

Even for 2024, it brandished its knife, slashing forecast net income -46%.

Its new HK$62.66 target is based on 1.6x 2024E book value.

"We lower the PB multiple by 1.5 standard deviation given weak margins driven by a poor mix with low visibility on future recovery."


Finally, this is what ASMPT itself says about its outlook:

"Powered by its unique broad-based portfolio, the Group remains optimistic about its prospects and growth potential over the long term.

"This confidence is supported by long-term structural trends of automotive electrification, smart factories, green infrastructure, 5G, IoT, and highperformance computing fuelled by generative AI growth.

"To support this increasingly digitally connected world, more organisations are preparing for a future with increasingly dynamic global supply chains.

"The Group believes these factors will lead to an increase in overall capex spend.

"In the short term, weak economy and end-market electronics demand will continue to prolong the industry inventory adjustment and constrain the capital spending of our customer base."