"Portuser" contributed this article to NextInsight

Rising tyre consumption
In its 2016 annual report, Goodyear, a leading global tyre maker, observed a trend of rising tyre consumption globally, as well as the rising market share of larger tyres (those with rim diametres of 17 inches or higher). See chart.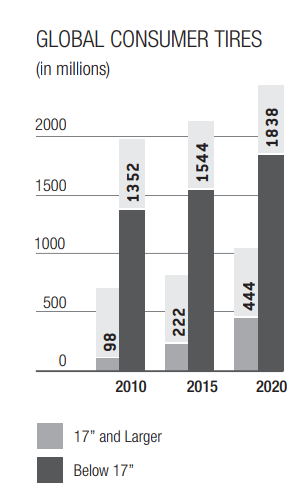 These trends augur well for China Sunsine as it raises its production capacity for TBBS rubber accelerator which is required for producing higher-end tyres.

First, some background on tyre making.


Rubber (both natural and synthetic) is soft and malleable. It has to be hardened by reacting with sulphur, or insoluble sulphur, before being made into tyres or other products such as shoes, hoses, belts. (Tyre production now consumes two-thirds of global rubber output.)

The long reaction time between rubber and sulphur can be drastically reduced by rubber accelerators acting as catalysts. For tyres to last longer, anti-oxidants are added.

Higher rubber consumption resulting from rising tyre production creates demand for more rubber accelerators, insoluble sulphur and anti-oxidants. The three, which are essential additives in the manufacture of tyres, are collectively known as rubber chemicals.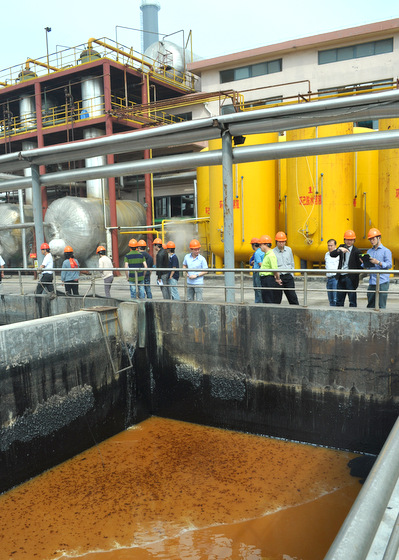 A water treatment facility in China Sunsine's plant in Weifang: The effluent is treated and then piped to a government central treatment site for further cleaning. NextInsight file photo Rubber accelerators

Of the three groups of rubber chemicals, rubber accelerators, especially the lower-grades, are easiest to make. The main input of rubber accelerators is MBT, whose production generates large amounts of waste water and hydrogen suphide, a toxic gas, which must be treated properly. Strict pollution control and safety measures are also to be observed in the production of rubber accelerators.

The burgeoning tyre industry, which is spurred by high vehicle sales as well as growing vehicle population in China, prompted many businesses to enter the rubber accelerator industry without adequate investments in pollution control and safety, leading to over-supply and aggravating the already serious environmental depredation.

In 2014, the Chinese Government declared war against industrial pollution. Last year, the central government joined local authorities in weeding out chemical factories that flout the laws.

There are reports of rubber accelerator shortage as sub-par factories are phased out or face production suspension. Click here.

China Sunsine's expansion of TBBS capacity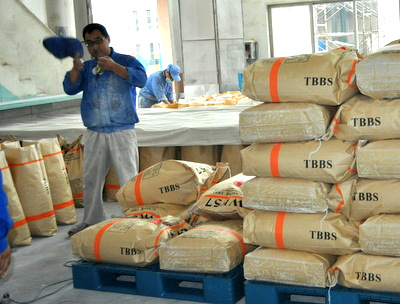 TBBS produced at China Sunsine.
NextInsight file photo.The world's three biggest rubber accelerator companies, China Sunsine, Tianjin Kemai and Yanggu Huatai are all in China. China Sunsine has already embarked on expanding its 87,000-tonne rubber accelerator capacity.

A newly-completed 10,000-tonne TBBS (a high grade rubber accelerator) line is awaiting government approval for the start of trial production. If everything goes well, another two lines of 10,000 tonnes each will be added.

There are concerns that China Sunsine is overdoing things by adding 30,000 tonnes to its existing 25,000-tonne TBBS capacity.

Based on the following sources, the expansion likely has been based on valid considerations.

First, the 30,000-tonne TBBS project was evaluated by the Research Institute for Chemical Industry (山东省化工研究院) for its impact on the environment.

Page 2-7 of the environmental report (山东尚舜化工有限公司(北区) 3 万吨/年橡胶促进剂 TBBS 项目 环境影响报告书) stated that TBBS is superior to other rubber accelerators and is widely used in the manufacture of radial tyres. As the production process of TBBS is environmentally friendlier, wider use of TBBS will spur the adoption of greener manufacturing processes of other rubber accelerators.

Second, in their IPO prospectus, Triangle Tyres and Linglong Tires, two China's leading tyre makers, stated that part of the IPO proceeds would be used to develop high-end radial tyres that are environmentally friendly. Triangle's IPO prospectus also stated that the Chinese government's policy is not to allow new capacity for bias tyres (that use nylon cords compared to radial tyres that use steel cords) except for aircraft.

Third, BASF has expanded its production capacity of tert-butylamine, an important raw material for the production of TBBS. Click here.

Cash (RMB 408m), bank-issued promissory notes (RMB 95m) plus ready infrastructure will enable Sunsine to equip expeditiously for higher production. Its competitors are still sourcing funds to expand. Even when the money becomes available, production cannot come on stream quickly as construction will take three years.

The addition of 30,000 tonnes of TBBS capacity will alter significantly the product mix of its rubber accelerators -- three-fifths of rubber accelerators will be high-grade, compared to less than half before. (See table)
| | | |
| --- | --- | --- |
| | Existing capacity (tonnes) | After TBBS expansion (tonnes) |
| Higher grade | | |
| TBBS | 25,000 | 55,000 |
| DCBS | 8,000 | 8,000 |
| DPG | 8,000 | 8,000 |
| sub-total | 41,000 | 71,000 |
| | | |
| Lower grade | | |
| CBS | 22,000 | 22,000 |
| MBTS | 20,000 | 20,000 |
| TMTD | 4,000 | 4,000 |
| sub-total | 46,000 | 46,000 |
| | | |
| Grand total | 87,000 | 117,000 |
As higher technology is required for its production, TBBS fetches a higher selling price.

In its coverage of Sunsine dated 4 June 2017, NRA Capital reported that the average prices of TBBS and MBTS were RMB 22,170 and RMB 15,880, respectively, in 2016.

Considerable time was taken to test the machineries of the new TBBS production line.

Sunsine's 2017 corporate video reveals that the new TBBS production lines, which are automated, were developed through in-house R&D.


The video also reveals, for the first time, that Sunsine's insoluble sulphur is "near the world's leading standard of quality." Flexsys, with its proprietary production process, has been dominating the insoluble sulphur market.

Sunsine's sustainability report 2016 stated that the company will expand its insoluble sulphur production scale and market share "with the aim to become the world's largest producer".