Excerpts from analyst's report

RHB Research analyst: Edison Chen

We continue to like Riverstone after yet another solid performance. The group is continuing its ambitious expansion plan and we reiterate our view that it would have no problem filling up additional capacity despite industry oversupply concerns.

Most notably, its niche cleanroom business held up well in terms of ASP and should continue to drive profitability going forward. Maintain BUY with a new SGD1.18 TP (20% upside), adjusted for a 1-for-1 share split and implying 18.4x FY16F P/E based on DCFE valuations (8% CoE, 2% TG).

Industry oversupply not a concern. Riverstone is continuing with its ambitious expansion plan, with another 1bn pieces pa of glove production to be added in 2016. This brings total production capacity to 6.2bn pieces pa. We reiterate our view that, while there have been concerns over the industry oversupply issues, Riverstone would have no problem filling up its capacity, albeit at a lower ASP.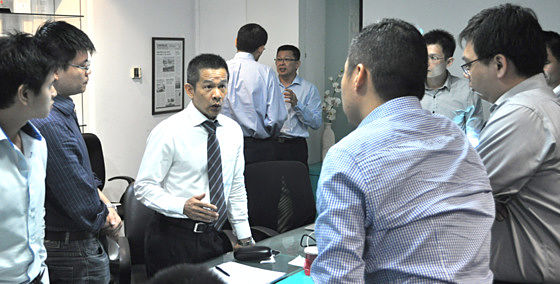 Riverstone executive chairman Wong Teek Son at a results briefing. NextInsight file photoThis is because the existing healthcare customers are likely to continue allocating more orders to Riverstone on its trusted product quality and customisation services. The company's niche cleanroom business would also act as a defensive cushion with much lesser competition.

Forex fluctuation a double-edged sword. Much like other glove exporters listed in Malaysia, Riverstone also benefitted greatly from the weakening of the MYR against the USD in 2015. We would like to caution investors that if the forex movement were to reverse, the company would be negatively impacted. Nevertheless, the negative impact is contained as we estimate that for every 1% change in USD/MYR, there would only be a 0.6% change in net profit. Our FY16 and FY17 estimates are based on our house's long-term USD/MYR exchange rate estimate of 4.20.

Profits beat as cleanroom glove's ASP held up in USD terms. Riverstone delivered stellar results with 4Q15 PATMI surging 66.4% YoY to MYR37.2m on MYR153.5m revenue (+37% YoY). The stronger-than-expected performance was attributable to the forex impact. While its healthcare glove ASP has been trending down so as to pass on the benefits to its customers, its cleanroom business's ASP held up well in USD terms, benefitting from the forex gain.