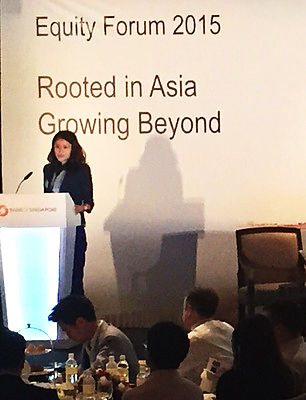 Yangzijiang's CFO, Liu Hua, presenting at the Bank of Singapore Equity Forum last Friday (8 May), in one of the company's regular communication efforts with the investment community.
Photo by Reyna Mei.YANGZIJIANG SHIPBUILDING's stock price touched a 52-week high of $1.48 on April 28, the same day that BlackRock bought 28,500 shares to cross the 5% shareholding level in the company.

BlackRock is the world's largest investment house with US$4.77 trillion of assets under management, according to its website.

BlackRock now holds 191.6 million shares of Yangzijiang worth about S$280 million based on the last Friday's closing price of $1.455.

The largest shareholder of Yangzijiang (which currently has a market cap of about S$5.5 billion) is its executive chairman, Ren Yuanlin, with a 26.18% interest.

It's not just BlackRock that is optimistic about Yangzijiang : Last month, Deutsche Bank raised its target price from S$1.40 to S$1.90, the highest among analysts.

For what Deutsche sees as the growth drivers, read: YANGZIJIANG: "Raising target price to street-high $1.90," says Deutsche
Deutsche appears to have factored in a weaker 1Q2015 for which Yangzijiang has just reported a 12% decline in net profit to RMB707 million on a 14% decline in revenue to RMB3.0 billion.

Yangzijiang has an outstanding shipbuilding order book of 114 vessels with a total value of US$4.6 billion.

According to Clarksons Research, as of end Feb 2015, with 2.9m CGT (compensated gross tonnage) orders on hand, Yangzijiang ranked the first in China and eighth in the world in terms of outstanding orders.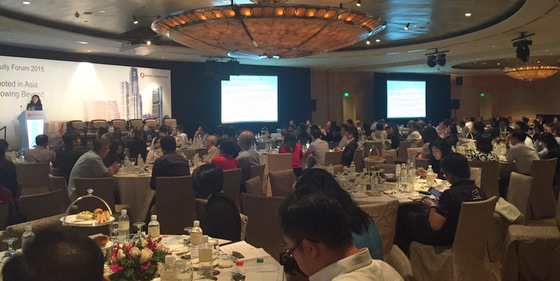 @ Bank of Singapore Equity Forum last Friday (8 May). Photo by Reyna Mei.